Calendar
Wednesday, Nov. 4, 2015, 7:00 p.m.

Wild Writers presents the Canadian launch of C.D.'s novel Afterheat.
Poetry Jazz Café
224 Augusta Ave.
Toronto, Ontario M5T2L6
More information
October 15, 2015, 5:00 p.m.
An afternoon of readings by CD Collins, Diane Fraser, and Kate Wallace Rogers.
AMP: Art Market Provincetown
148 Commercial St,
Provincetown, Massachusetts
More information

Saturday, Aug. 22, 2015, 7:00 p.m.
CD will read from her new novel, Afterheat.
Gateway Regional Arts Center
101 East Main Street
Mt. Sterling, KY
Wednesday, June 24, 2015, 7:00 p.m.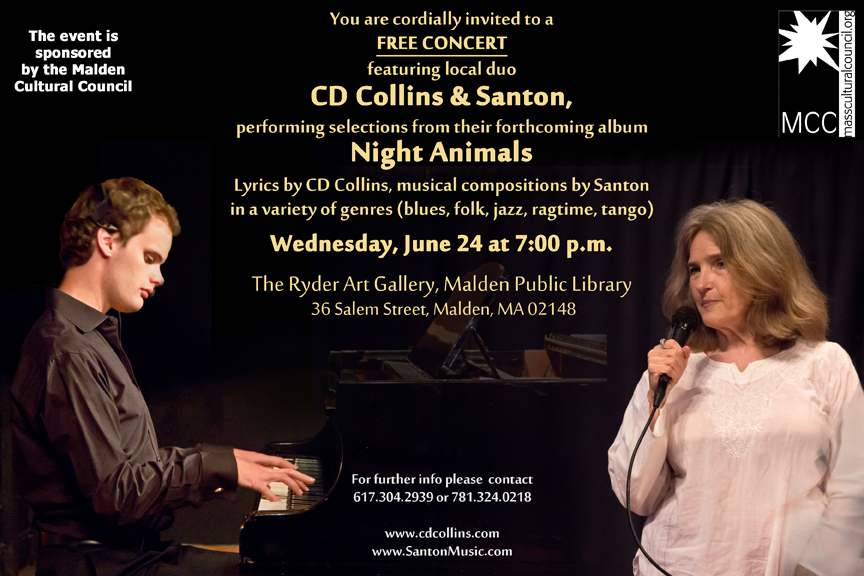 CD and Santon perform selections — poetry, songs, and stories set to music — from their upcoming album Night Animals.
The Ryder Art Gallery
Malden Public Library
36 Salem Street
Malden, MA 02148
For more information, call (617) 304-2939 or (781) 324-0218.
Saturday, June 13, 2015, 1:15 p.m.
CD and Santon will present a performance of spoken word and music in three parts.
Beebe Estate
235 West Foster Street
Melrose, MA 02176
Tuesday, June 9, 2015, 6:45 p.m.
Story Space
Out of the Blue Too Gallery
541 Mass Ave.
Cambridge, MA (in Central Square)
Friday, May 1, 2015, 7:00 p.m.
Free Concert
First Parish in Malden
Unitarian Universalist Church
2 Elm Street
Malden, MA 02148

Sunday, Oct. 26, 2014, 4:00 p.m.
Night Animals: Collaborative Imaginings of Word, Note, and Lens

CD, Santon, and Ose Manheim invite you to a fundraiser to support the recording of original music, spoken word, and visual art — celebrating the power of imagination to reveal, unite, and heal.
55 Granite Street
Malden, MA
RSVP to (781) 605-8609 or osemanheim@icloud.com.
More information on the collaboration at nightanimals.tumblr.com.

Saturday, July 19, 2014, 7:00 p.m.
CD and musician Santon in a live performance of music and spoken word.
Gateway Regional Arts Center
101 East Main Street
Mt. Sterling, KY
(859) 498-6264

Saturday, May 17, 2014, 2:00 p.m.
CD and musician Santon perform live on Malden (Massachusetts) Access Television as part of the Open House Showcase.
Comcast Channel 3 and Verizon 28 in Malden.
CD reads at the Boston National Poetry Month Festival.
Boston Public Library
700 Boylston Street
Copley Square
Saturday, March 29, 2014, 1:00 p.m.
CD will perform live.
Arcata Branch Library
500  Seventh Street
Arcata, CA 95521
Download poster (586KB jpeg)
Thursday, March 27, 2014, 7:00 p.m.
CD is the featured performer.
Fortuna Branch Library
753 14th Street                
Fortuna, CA 95540  
Download poster (586KB jpeg)
Wednesday, March 26, 2014, 7:00 p.m.
Live performance.
Trinidad Branch Library
380 Janis Court.
Trinidad CA 95570

Tuesday, March 25, 2014, 6:30 p.m.
Free the Poets! Tuesday Night Poetry Series
Humboldt County Library
1313  3rd Street
Eureka, CA  95501  
Directions to the library
Download poster (586KB jpeg)

Sunday, Feb. 9, 2014, 12:45 p.m.
CD will read along with Barry Hellman. Doors open 11:30 a.m. There will be music starting at noon. The poetry begins at 12:45 p.m. Free admission and refreshments.
Plymouth Center for the Arts
11 North Street
Plymouth, MA 02361 
(508) 746-7222


Tuesday, Nov. 26, 2013, 7:00-9:30 p.m.
The Story Space at Out of the Blue Gallery
CD is the featured storyteller at this event, where seasoned speakers and newcomers alike are welcome to tell their tales. $5.00 requested donation. For more information, visit storyspace.org.
The Story Space meets at:
Out of the Blue Gallery
106 Prospect Street (near Central Square)
Cambridge, Mass.
map
Download the flyer (230K PDF).

Friday, Oct. 11, 2013, 3:00-5:00 p.m.
HONK! Festival
CD will perform a spoken-word piece with the Brass Messengers and dancers from the Dance Complex. Also featured will be Lo Gallucio, Poet Populist of Cambridge.

Jill Brown-Rhone Park
Central Square
Cambridge, Mass.
Friday, Oct. 4, 2013, 7:00 p.m.
CD release party
Toronto, Ontario
Friday, Sept. 13, 2013, 6:00-8:00 p.m.
Irving Street Studios Reception and Performance
CD will read at this opening reception for the Irving Street Studios Exhibit.
Commerce Place
350 Main Street
Malden, Mass.
The exhibit is open to the public though Oct. 4, 2013. It can be seen at the Commerce Place Building during open hours: Monday-Friday 8:00 a.m. to 6:00 p.m. Saturday 8:00 a.m. to 12:00 noon.
Thursday, Sept. 12, 2013, 7:00 p.m.
Cervena Barva Press Reading Series
CD will read along with Judah Leblang and Kathryn Kulpa|. Admission is $3.00. Reception to follow. Detail about the event and the authors are on the Cervena Barva Press website. The reading will be at:
Arts at the Armory
Basement, Room B8
191 Highland Avenue
Somerville, MA
Tuesday, Aug. 20, 2013
Tech@LEAD Pilot Event, Kennedy Center for the Performing Arts
In collaboration with the Carl and Ruth Shapiro National Center for Accessible Media at WGBH and the Smithsonian Institution, the Center will present Tech@LEAD. Tech@LEAD is a pilot event that will bring together diverse experts and practitioners from a variety of fields, including the arts, education, design, exhibition, media, electronic and information technology, online experiences and mobile and portable device development and manufacture — all to advance the development and application of innovative technologies that support the inclusion of people with disabilities in the cultural life of our world. Tech@LEAD is a by-invitation-only event. More information at the Kennedy Center website.